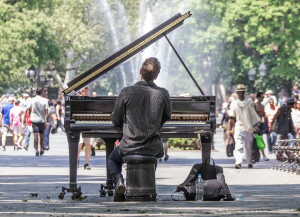 All events are on Wed. evenings and start at 7:00 pm at the Fillmore Park Pavilion. Light refreshments will be served, please bring your own lawn chairs.
July 13th : 23 Skidoo- the band presents a trip down memory lane with a repertoire that features popular hits of the 20's thru the 50's…Big Band favorites, Sing-a-longs, novelty numbers and Dixie entertaining audiences young and old alike.
July 20th: Gene Hilts & the Rustic Ramblers – enjoy this veteran group using guitar, bass, drums, pedal steel guitar and vocals for a pure traditional country sound.
July 27th : Creek Bend Band- a Bluegrass band based in Buffalo, NY that has been serving up good, hot bluegrass music for over thirty years.
Aug 3rd : WNY Fiddle Kids- This group of kids are various fiddle students from WNY area and range from age 9-18. They play traditional bluegrass with a modern twist.
Aug. 10th: Amy & Reeni Duo – Their eclectic playlist runs the gamut of current pop/rock, to the Beatles, classics from the 80's and 90's to folk songs.
Aug. 17th: Town Theatre of Short Tract – "The Girl from the Mouth of the River" is a whimsical look at the last 200 years of Fillmore. A girl returns to visit her grandmother and discovers a photo album in the attic that gives her insight into her heritage.
*This project is made possible with funds from the Statewide Community Regrants Program, a regrant program of the New York State Council on the Arts with the support of the Office of the Governor and the New York State Legislature and administered by the Arts Council for Wyoming County